Sydney 'ISIS Terrorist' False Wag -Like Woolrich,Otawa -Brought to you by Lindt 'Broma' Chocolates,Rupert Murdch David Cameron's City Of London
Update:Sydney ISIS Islamic Terrorist' Jewish?
http://aanirfan.blogspot.com/2014/12/sydney-siege-bourjerdi-is-jewish.html
Update Sydney ISIS terrorist Jewish?
Tuesday, 16 December 2014
SYDNEY SIEGE; BOURJERDI IS JEWISH?
Haron Monis (above) was the typical Islamist.
He loved western society, he loved sex and violence and he promoted the propaganda of the CIA and its friends.
And he was Jewish, reportedly.
In 2009, he was outed as a bogus Islamic cleric by Moslem scholars.
Haron Monis, originally called Manteghi Bourjerdi, may still be alive, unless he was a mind-controlled patsy.
Manteghi Bourjerdi, may have links to Borujerd (or Bourjerd) in Iran.
The people of Borujerd speak mostly the

Borujerdi dialect

, which is "to high degree affected by the specific accent common among the Jewish population of Borujerd."
Judah Monis (1683 – April 25, 1764)[1] was North America's first college instructor of the Hebrew language.
The Sydney Siege
was a classic CIA/Mossad/
Australian Security Intelligence Organisation
inside job.

Haron Monis was 'out on bail' in spite of being linked to murder and various other serious crimes.

Haron Monis recently 'converted to Sunni Islam' and became a supporter of the CIA's ISIS.
He spouted slogans designed to discredit Moslems.
..............................................................
http://aanirfan.blogspot.com/
On 15 December 2014, we read that a CIA false flag operation is underway at a café in central Sydney.
The purpose of this operation is to gain public support for Tony Abbott's backing of the CIA's ISIS false flag operations.
http://therebel.website/en/jim-stone/821422-probable-islamic-terror-hoax-in-australia
ISIS™ nabs a chocolate shop in Sydney, right across from Channel 7!
As of 10 PM Central time on the 14th (which is the 15th in Australia) an "Islamic terrorist" has taken over a Lindt chocolate shop in Sydney Australia and held 50 people hostage. But there are serious problems with this story.
'ISIS Terrorist' Inside Lindt Chocolate Store,Sydney,Australia:
tryals.wordpress.com/.../chocomuseo-antigua-guatemalas-ghirardelli-bro...


May 14, 2012 -

1998:

Lindt

and Sprungli Chocolate out of Switzerland acquires Ghirardelli Chocolate Company as a wholly owned subsidiary of its holding ...
21 minutes ago
-
Google+
http://www.theguardian.com/australia-news/live/2014/dec/15/sydney-cafe-siege-hostage-man-haron-monis-live-coverage
Rupert Murdoch gloatsover Islamic Terrorist Fase Wag in Sydney
2:19 PM - 15 Dec 2014
Israeli-Australian Frank Lowy also part of 911 and WTC insurance fraud with
www.theaustralian.com.au/.../

Rupert

-

Murdoch

-delivers-the-1...

... businessman has had more success on that world stage than

Rupert Murdoch

. ... THE

terror

raids in

Sydney

and Brisbane demonstrate one of the key ...
crimesofzion.blogspot.com/2007/05/frank-lowy-zionism-and-911.html

May 15, 2007 -

Most people know about "Lucky" Larry

Silverstein's

part in 9/11 and his dubious ...

Frank Lowy

is a Hungarian Jew who arrived in Palestine in 1945 to fight with the Haganah

terrorist

organisation in the Israeli "War of Independence", later ... In 1952 he moved to

Sydney

, Australia, where he started building ...
www.truthology.org.au/index.php/posts/413-the-real-frank-lowy

Fifty days before 9/11, Larry

Silverstein's Silverstein

Properties and

Frank Lowy's

... each plane collision constituted a separate act of

terrorism

, doubling the payout. ... Brog told the

Sydney

Morning Herald that Lowy's "influence is such that if he ..
jtremaine.wordpress.com/2014/06/23/isis-in-iraq-cia-trained-and-financed/
Jun 23, 2014 -

Democracy died when JFK was murdered by the

CIA

. .... one for

Christian

Copts, another one for Muslims and Sinai as the haven for Jihadists and Salafis. ...... And they're all built in some desert areas of Virginia, Hawaii and

Australia

. .... http://

aangirfan

.blogspot.ca/2014/03/nato-troops-shot-both-sides-in- ...
globalnews.ca/news/.../shots-fired-at-war-memorial-in-ottawa-says-witnes...

Oct 23, 2014 -

Soldier killed in what Harper calls '

terrorist

' attack in

Ottawa

.... "And to our friends and fellow citizens in the

Muslim

community, Canadians know acts such as ..... WATCH LIVE: Hostages being held at café in

Sydney

, Australia.
Missing: woolrich
...................
http://therebel.website/en/jim-stone/821422-probable-islamic-terror-hoax-in-australia
ISIS™ nabs a chocolate shop in Sydney, right across from Channel 7!
As of 10 PM Central time on the 14th (which is the 15th in Australia) an "Islamic terrorist" has taken over a Lindt chocolate shop in Sydney Australia and held 50 people hostage. But there are serious problems with this story.
The first problem? A sign the hostages reportedly were forced to hold up against the windows which read "We sacrifice ourselves for you, O Mohamed" was shown via a blurry photograph and had incomplete text. This would be expected of a hack doing this, no Muslim would get the text wrong.
The second serious problem is that this is purportedly an ISIS action. But it appears to be a lone gunman doing it all, which reeks to high heaven of a pre programmed CIA drone doing this according to what ever script was washed into his head especially with the sign being apparently half baked in appearance.
The third serious problem? As of 10 PM CST, absolutely nothing about this has been released on anything other than twitter. Nada on Drudge, CNN or anywhere else. Only Australian papers have anything up and all they are doing is following tweets because tweets are all there is at this point. So they could be doing toe dips with a load of bunk and seeing where it goes. HOWEVER, Lindt Chocolate company has shut all other stores, that is for certain so even if it is all tweets at this point, something of substance has happened as a result.
This story may well be so fresh that no one has caught on yet in the MSM? Let's see what posts on the 15th in the U.S., certainly if this is "their" next pet project they will do all they can to make hay with it.
Update:
The Jewish Press
has come right out and said it is ISIS doing this. Perhaps a setup or wishful thinking? Awful quick to the draw with this when all they are doing is following tweets as well, but interesting perspective here.
Update:
All Jewish synagogues and organizations are on lockdown in Australia already. That does it for me! That was TOO FAST to get that done, it happened WAY TOO FAST, THEY DID THIS,the extremely rapid lockdown response proves foreknowledge. They just got the word GO. All a show!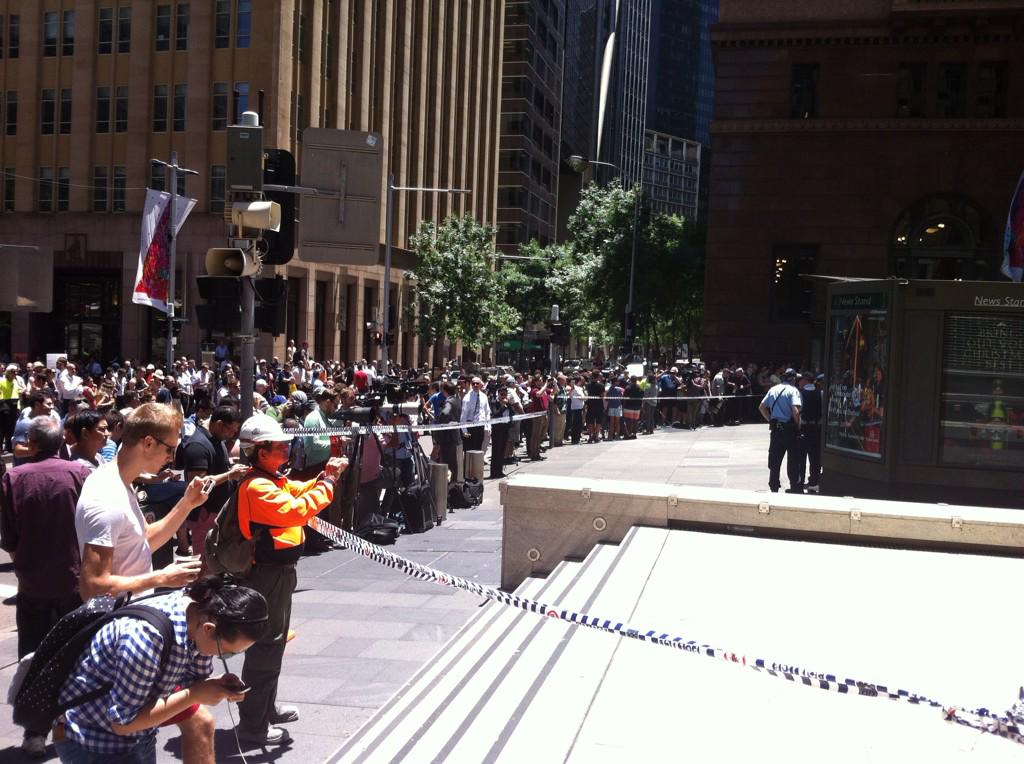 UPDATE:
The location and timing appears to be too perfect to be real. Take a look at this photo - The location was obviously selected for huge media coverage with a perfect view of the hostage taking scene. The fact this was launched early morning on Monday gives them a full day of media coverage (just like 911) and a whole week to make hay. The ISIS sign was placed perfectly between "Lindt" and Merry Christmas" on the windows, perhaps a back stab because the Swiss asked for their gold back?
Update: Drudge still does not have anything up about this along with CNN and all others, why the delay in the American press? 5 hours into this now . . . . .
Update: Snipers on scene, perfectly clear shots of police pointing guns at news cameras, 3 hostages "escaped" or released, depending upon which report, AND, you do not get perfectly clear shots of police pointing guns directly at news cameras unless it is all set up to be that way for propaganda psy op purposes, this one is tough to believe. What on earth could that cop possibly be pointing his gun at other than a news camera to make a big show? What is between the cameraman and that cop that needs a gun pointed at it? So called "hostage" or escapee looking right at the news camera just like the cop is, WHY? Because it makes a great photo!
UPDATE:
Confirmed: Over five hours into this, there is a complete blackout in the American media as confirmed by readers on the
Forum, and I would like to know why. This was well underway a full hour before the nightly news on the East coast, yet hours later it was still not on the nightly news on the West coast.
ABC news is doing a livestream of this from Australia, why did ABC news not have it on the nightly news in America then? This livestream proves the American press is not in the dark about this, why nothing on the nightly news?
ANSWER: Because they know that the ISIS ruse is a risky fraud to uphold, and they are afraid of putting it up in front of Americans en masse before they know if it is going to actually fly in Australia. That is the only possible answer for this blackout in the American press. They have a few more hours for the toe dip in the truther piranha tank to prove itself out in Australia while people sleep in America before deciding whether or not to dip America in that tank as well. Obviously if it flops before evening in Australia, they will retire it where it sits.
UPDATE: They are testing the waters with various stories. For example, the unintelligible message about all of this being done for Mohammed has been replaced with "it was the Shadaha" which is too big of a leap for any real story. They are simply testing new things until they find a load of crap most intellectual carp will suck on and enjoy.
HA! Here's a good one! Among their demands was that they be brought an Isis flag! If that is not a laugh I don't know what is, YOU MEAN ISIS SHOWED UP WITHOUT A FLAG? NOT EVEN A LASER PRINTED ONE? Come on now, 11X17 laser print available at Kinkos would work JUST FINE! No flag??!!?? what a joke! That demand was apparently made at the request of a few intellectual carp who will believe said demand "proves" it has to be ISIS!
Obviously they are working out the bugs in their presentation before manure forking it over to the American side of the Pacific! GET WHILE THE GETTING IS GOOD, THE FRESH B.S. IS PRICELESS.
Source: JimStoneFreelance.com
Written by

Jim Stone
Hits: 182
........................
la.indymedia.org/news/.../260016_comment.p...
May 24, 2013 -

It was several hundred meters from southeast London's

Woolwich

Royal Artillery barracks. .... Key is calling the incident

Islamic terrorism

.
politics.slashdot.org/story/14/.../apparent-islamic-terrorism-strikes-sydne...

19 hours ago -

Submission:

Islamic Terrorism

strikes Australia ! ...... Well, maybe, but as long as they stick to targeting muslin and don't attack

wool

or polyester, .... Bibeau, the homeless

Ottawa

killer, had a history of violence, drug addiction, ...
news.nationalpost.com/.../man-takes-several-hostages-at-lin...
21 hours ago -

Five people have escaped from a

Sydney

cafe where a gunman took an ... Two people inside the cafe earlier held up a flag with an

Islamic

... raising fears that a

terrorist

incident was playing out in the heart of Australia's biggest city. ..... in

Ottawa

had Kevin Vickers not stepped up. http://t.co/hzY34h7XPi.
Missing: woolrich