Denying Nazi Holocaust IS NOT A Hate Crime And Euro Jews Aren't 'Semites ! Israel's Treatment Of Palestinian Semites IS A Hate Crime !
Sure if someone hurts or physically attacks someone(s) based on race or even religion that IS a hate crime.However simply denying or not believing an even occured or denies the accuracy of a certain
portrayal of an event dogmatically espoused to be fact such a the Nazi holocaust against German Jews or the US.,EU or UK and their ally Israel's official government stories about the events as well as their mass media that even lied about WMDS in Iraq immediately after the event to stir us to genocidal wars in the Islamic Middle Est for the good of oil companies and Israeli Zionists evil ends
then perhaps it is our very governmentsd that now force us to belive their lies who are responsiblenot only for hate crimes but for war crimes !
Angela Merkel who sold German submarines to Israel for mounting nd transporting and potentially nuclear missilles at any of us it decides is its enemy is indeed a hate crime and war crime against us all including German citizens who are also threatened by her and her Israeli bosses war crimes !She should be in jail NOT the German grandmother mentioned below and German Jewish Zionists who were part of the Nazi regime and who were founders of Israel are the war criminals and their children in Israel are much more guilty for having colluded with and having been part of the Nazi regime than any innocent Germans who also died because Jewish Nazis supported Hitler and many Israelis have family ancestors who thus commited war drimes against innocent Germans and others they NEVER have to apologise.If exactly 6 million Jews or white European who erroneously thought they were 'Semites' WERE INDEED MURDERED BY THE NAZIS THEN WAR CRIMINALS SHOULD HAVE BEEN PUNISHED WHO WWERE GERMAN JEWS BECUSE MANY NAZIS WWERE GERMAN JEWS !
aanirfan.blogspot.com/2018/09/friends-of-israel.html
Anonymous 4 September 2018.

A ROLL

-

CALL OF DEMENTED BRITISH ZIONISTS AND "FRIENDS OF ISRAEL

"

PART 1

- #JimmySavile #WilfredKrichefski
....................................................................
http://aanirfan.blogspot.com/2018/09/anti-semitic.html
https://www.amazon.com/Hitlers-Jewish-Soldiers-Descent-Military/dp/0700613587

Hitler's Jewish Soldiers: The Untold Story of Nazi Racial Laws and Men of Jewish ... The Transfer Agreement--25th Anniversary Edition: The Dramatic Story of the ... "Through videotaped interviews, painstaking attention to personnel files, and .
https://www.i24news.tv/en/news/international/180922-180803-german-court-rejects-case-of-holocaust-denying-nazi-grandma
German court rejects case of Holocaust-denying 'Nazi grandma'
UPDATED ON
08/03/2018
3:10:33 PM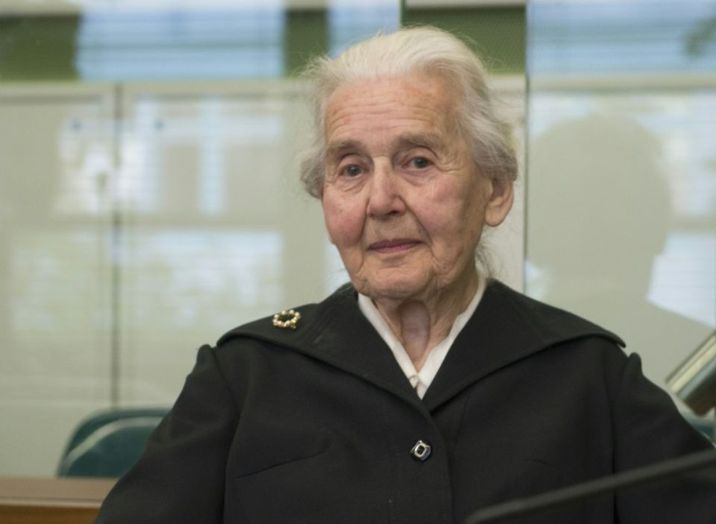 Ursula Haverbeck au tribunal de Berlin, le 16 octobre 2017
Paul Zinken / AFP
She was convicted in October last year on eight counts of incitement and sentenced to two years behind bars
Germany's jailed "Nazi grandma" Ursula Haverbeck, 89, lost a challenge before the country's highest court, which reaffirmed that constitutional free speech guarantees do not cover Holocaust denial, it was cleared for publication on Friday.
Haverbeck started her latest prison term in May for insisting that Nazi Germany's mass murder of millions of Jews and others was "only a belief" and that Auschwitz was "not historically proven" to have been a death camp.
German law makes it illegal to deny the genocide committed by Adolf Hitler's regime, which in the Auschwitz-Birkenau camp in occupied Poland alone claimed some 1.1 million lives, mostly of European Jews.
Holocaust denial and other forms of incitement to hatred against segments of the population carry up to five years in prison, while the use of Nazi symbols such as swastikas is also banned.
The Constitutional Court ruled on July 22 that "punishment for denying the National Socialist genocide is fundamentally compatible with Article 5 (1) of the Basic Law," which guarantees freedom of speech.
"The dissemination of claims that are proven to be untrue and of deliberately false assertions" was not covered by free speech, the court ruled, adding that Holocaust denial "breaches the limits of peaceful public debate and represents a disruption of the public peace."
The same court, however, also made clear in which cases controversial remarks regarding the Holocaust can be tolerated. Reviewing the appeal of a right-wing internet activist fined for incitement over his Holocaust-related statements, the Karlsruhe-based court decided to cancel the 3,000 euro fine, since his comments did not "pose a danger to public peace."
The man, identified only as S., stated on his online radio station "network radio Germania" that thousands of Auschwitz inmates "voluntarily went with the satanic SS."
But the court ruled that this assertion did not exceed the boundaries of freedom of expression, "even if it refuses to accept recognized historical studies or victims' accounts. Unless such statements threaten public peace, a democratic society should be able to tolerate even "disturbing opinions," the court stressed.
Haverbeck, who was once chairwoman of a far-right training center shut down in 2008 for spreading Nazi propaganda, was convicted in October last year on eight counts of incitement and sentenced to two years behind bars.
She had previously been sentenced on several occasions to jail for denying the Nazi genocide, once declaring on television that "the Holocaust is the biggest and most sustained lie in history".
i24NEWS' correspondent in Germany Polina Garaev contributed to this report.