professional iraq war protestor Carlos Arredondo, emergency room physician,Dr.Allan Panter,Dr.Levine,Spielberg and mysterious wheelchair appearance,boston marathon
where did the mysterious unused wheelchair come from ?
https://www.metabunk.org/threads/posting-this-in-light-of-the-emt-claims-regarding-jeff-bauman.1999/
[Update, 9:38 p.m. ET]
Dr. Allan Panter, who was near the finish line waiting for his wife who was running the race, told CNN he was standing about 20 to 25 feet from the first blast. He said he treated victims on the street after the explosion.
"I saw at least six to seven people down next to me," he said. "They protected me from the blast. One lady expired. One gentleman lost both his (lower) limbs. Most of the injuries were lower extremities. I could not figure out why the young lady had expired. I could not find any injury on her thorax."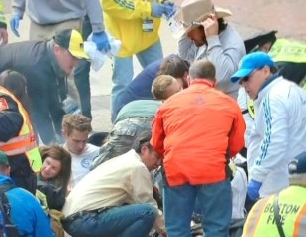 Dr. Allan Panter (in jeans, khaki shirt) can been seen in this CNN image working with a patient at the bombing site
"

Bauman, Lawler and Mahoney took a cab to Boylston Street and waded through the crowd, looking for a good spot. Spectators were five and six deep. Lawler and Mahoney wormed their way closer to the street, and Bauman stayed near the back....

He was looking for Hurley when a man behind him, about five feet to his right, caught his eye. The man was wearing a dark, heavy coat, sunglasses, a backpack and a baseball cap low and tight on his head. He looked strange. Why was he dressed so warmly on a sunny day? He looked serious, too. And why was he standing so far back? Bauman looked away. He scanned for Hurley again, and then looked back over his right shoulder. The man was gone, but his backpack was there on the sidewalk.

Then Bauman saw a flash and heard a bang.
Mahoney was a few feet away. She tried to scoot toward him, but her left leg would not budge. She looked at Bauman, then at his legs, and then back at him. He looked down, then back at her, horrified."
http://interactive.sun-sentinel.com/bostoncarlos/
Allan Panter
Allan Panter, an emergency room physician from Georgia who was at the marathon to cheer on his wife, was tying a tourniquet on Jeff's left leg. Carlos tore a piece of cloth from a sweater and started fashioning a tourniquet for the right leg. Someone else wrapped a long piece of gauze around Jeff's thigh.............
At the time, Carlos didn't know Jeff's name. All he knew was that Jeff looked young enough to be his son. Carlos had already lost his own two sons — one to war, the other to suicide. "I told him to hold on," Carlos said. "He looked very pale. I thought he was going to die."
Carlos helped lift Jeff into a wheelchair that had been brought to the scene, then ran alongside as they headed toward the medical tent, the wheelchair pushed by a woman in a red cap. "Call the ambulance," Carlos shouted. "I need an ambulance."
As he ran beside Jeff down Boylston Street toward Copley Square, a bloodied piece of tourniquet cloth started getting caught in a wheel. Carlos held it up to keep it clear of the wheelchair.
Associated Press photographer Charles Krupa had just bolted from a hotel ballroom across the street that served as the marathon media center. He snapped a photo of Jeff in the wheelchair, accompanied by Carlos, the woman in the red cap and a Boston paramedic in sunglasses.
Krupa took scores of photos at the scene. But it was that one image of Jeff with an ashen face and Carlos in a white cowboy hat that swept across the Internet and landed in newspapers around the world.
Within a flash, Carlos was famous. With his chiseled jaw, piercing green eyes and flowing curly hair, the hero in the cowboy hat became an instant sensation, the photogenic face of resilience.
But outside the spotlight, when the world isn't watching and he takes off the hat, Carlos Arredondo faces a dark struggle.
He still mourns the deaths of his two sons, has been through two divorces, has endured debilitating bouts of depression. He's on government disability, takes anti-psychotic medication, has trouble sleeping. He beats himself up for mistakes of the past, says he often feels that God is punishing him.
Although Carlos has gotten a lot of attention since the bombings, he's no stranger to the media glare. But in his first encounter, when he lived in South Florida nearly a decade ago, he was a polarizing figure.
When Marines arrived at his Hollywood home in 2004 to tell him of his eldest son's death in Iraq, Carlos set their van — and himself — on fire. Carlos was severely burned, and news of his violent reaction to the violence of war traveled around the world. Some viewed him as an anti-hero for anxious times, a grief-stricken dad whose incendiary act was an understandable outcry against the ravages of war. Others called him a traitor and thought he should have been charged with a crime.
Now, thanks to that one iconic photo from the marathon bombing, Carlos is widely praised. He has a publicist and a literary agent, and is working on a book deal. He was given a new pickup truck in August, a gift from a Massachusetts car dealer. His meals in restaurants are often comped. November brought an all-expenses-paid trip to Costa Rica with Jeff. In December, there will be a free trip to Paris with other marathon bombing survivors and first-responders........
............................
http://www.davesweb.cnchost.com/nwsltr119.html
In another report, Segatore had more to say about his alleged experiences that day: "'I ran out and saw people who were missing legs and part of their face and part of their abdomen,' he said Monday evening. 'My training prepared me for what to do, but nothing can ever really prepare you for what you see.'" Elsewhere in the same report we find this: "One of his first patients was a young woman, he thinks maybe 20 or 22 years old, whose abdomen was torn open. Her left leg was broken and facing the wrong way and she wasn't breathing." And this: "Working alongside Segatore in Tent A was Jim Asaiante, a nurse in the emergency room at the UMass Memorial Medical Center in Worcester, Massachusetts. Asaiante didn't run out after the explosion."
Mixon has told at least one other wholly original lie, which goes like this: "All the bodies were there and people were struggling, like, to climb over it -- they were kind of trapped with nowhere to go."