'Jewish' Nigerian Guns Bullets Client Turns Up In Israel Just Like Idi Amin Who Was Trained To Mass Murder In Golda Meir's Regime
I have no reason to equate Biafra sepatatist leader with Israel's former Uganda arms client Idi Amin
but Israel will allie themselves to anyone who will buy their arms and gladly arm both or all sides if they can come up with the shrkels or dollars convertible to shekels rubles yen etc.
Mar 19, 2018 -

Supplying

weapons

to African countries will likely be on the agenda of

Israeli

Defense ...

Nigeria

is a big potential customer for

Israel

systems.
Israeli
companies have exported invasive surveillance technology to at ... allegedly sold products to
Nigeria
, where they were used by political elites to ... is circulating
weapons
that are used in crimes against humanity, and it
https://africatimes.com/2018/10/23/israel-casts-a-shadow-on-biafran-leader-nnamdi-kanu-sighting/
Israel casts a shadow on Biafran leader Nnamdi Kanu sighting
The attorney for Nigerian activist Nnamdi Kanu, head of the Biafran separatist movement, has confirmed that Kanu is in Israel following the first sighting of him in more than a year – but Israeli authorities say they're not so sure.
Kanu appeared in a video shot at the Western Wall in the Old City of Jerusalem, wearing a prayer shawl and yarmulke, according to
Israeli media sources
. His appearance there was streamed on social media on Friday, and appeared to offer his followers proof that Kanu was alive and well.
Attorney Ifeanyi Ejiofor said after seeing the video he immediately went to confirm that its subject was indeed Kanu. "I received a direct confirmation from my client, hearing once from him after 13 months," he said.
However, Israeli foreign ministry spokesman Emmanuel Nahshon said Israel has no evidence that Kanu is in their country. He was speaking during an unrelated meeting with African journalists...........
https://www.bbc.com/news/world-africa-45938456
Mr Kanu holds both Nigerian and British nationality and says he is Jewish......
Missing Nigerian separatist leader Nnamdi Kanu has resurfaced in Israel more than a year after soldiers stormed his home.
"I'm in Israel," Mr Kanu said on Sunday in a broadcast on his outlawed pirate radio station - Radio Biafra.
A video of the In
digenous People Of Biafra (Ipob) leader praying at the Western Wall in Jerusalem has also been shared online.
Mr Kanu holds both Nigerian and British nationality and says he is Jewish.
His wife, Uchechi Kanu, told the BBC in February that she believed the government knew where her husband was being held after his home was raided by soldiers.
Mr Kanu has been campaigning for an independent state called Biafra in south-eastern Nigeria.
In 2015, Mr Kanu was charged with "criminal conspiracy, intimidation and membership of an illegal organisation" - charges that could amount to treason.
He was released on bail last year after spending more than 19 months without trial on treason charges.
He then renewed his campaign for independence, before his house in the south-eastern Abia state was raided by the military.
Who is Nnamdi Kanu?
He was a relatively obscure figure until 2009 when he started Radio Biafra, a station that called for an independent state for the Igbo people and is broadcast to Nigeria from London.
Though he grew up in Nigeria's south-east and went to the University of Nsukka, Mr Kanu moved to the UK before graduating.
Soon after setting up Ipob in 2014, he spoke to gatherings of the large Igbo diaspora, calling for Biafran independence. In some of his comments, he urged Biafrans to take up arms against the Nigerian state.
"We need guns and we need bullets," he said in one such address. This comment is what brought him to the attention of Nigeria's security services.
What is Biafra?
The plan for a Biafra state is not new.
In 1967 Igbo leaders declared a Biafran state, but after a brutal civil war, which led to the deaths of up to a million people, the secessionist rebellion was defeated.
Mr Kanu is the latest in a line of ethnic Igbo activists taking up the cause of pushing for an independent state, saying the Igbos have been marginalised by successive Nigerian governments.
---
Biafra at a glance: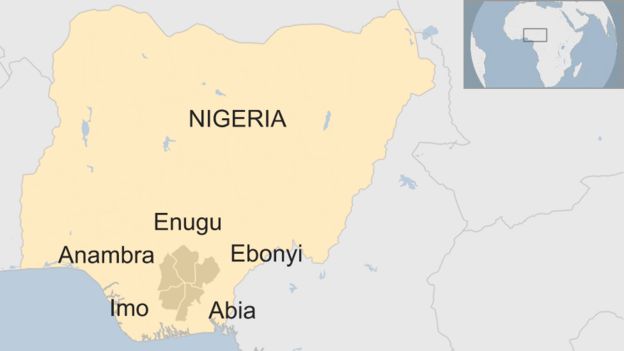 First republic of Biafra was declared by Nigerian military officer Odumegwu-Ojukwu in 1967
He led his mainly ethnic Igbo forces into a deadly three-year civil war that ended in 1970
More than one million people lost their lives, mostly because of hunger
Decades after Biafra uprising was quelled by the military, secessionist groups have attracted the support of many young people
They feel Nigeria's central government is not investing in the region
But the government says their complaints are not particular to the south-east